Conserve energy with your Vevo energy-efficient conservatory
It's more than just an extra room for your home...
When you let the light in with a Vevo conservatory you do more than add another room to your home. Mainly due to the ever increasing demands for more energy efficient glazing, technology for conservatories is advancing fast. Here's how a carefully chosen conservatory could help you keep cash in your pocket - with the added bonus of a good feeling from being eco friendly.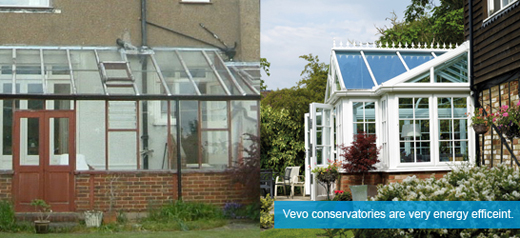 Conservatory windows & doors
As you'd expect, the uPVC double-glazed windows and doors in your new Vevo conservatory can be supplied with the latest energy-rated gas-filled window systems - with BFRC ratings from a highly-commendable 'C' to the top 'A' rating. With home fuel prices set to keep rising, it makes sense to fight back with the latest technology and make home improvements that will help keep each gas and electricity bill down.
Clever conservatory roof design
Advanced conservatory roof design complements the energy efficient technology in Vevo windows and doors. Forget old fashioned polycarbonate roofs. Your Vevo conservatory roof can be supplied with environment-enhancing speciality glazing such as the following:
Energy-efficient Low-E insulating glass

High insulating glass

Self-cleaning conservatory roof glass

Tinted solar control glass



As well as giving a better view than polycarbonate, Vevo conservatory glazing gives improved solar control for a more comfortable living environment. Our energy efficient glass roofs are also quieter than polycarbonate when it rains or hails - and self-cleaning glass is much safer for hard-to-reach conservatory roofs.
More than just an excellent U rating
What conservatory features and benefits will be most important for your home? Choosing the right energy-efficient conservatory, windows and doors means more than just achieving an excellent U rating. Style and practicality matter too, so your Vevo conservatory will perfectly complement your family's lifestyle.
For great ideas and up-to-date technical information when choosing your conservatory, there's no substitute for a knowledgeable expert to help you choose the perfect conservatory - and show you how to be energy efficient.
Let the light in and create a great environment with your friendly local Vevo conservatory stockist.